Invisible Bread
is a webcomic created by
Justin Boyd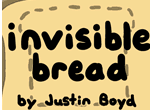 .
Invisible Bread is a comic about normal situations turning into absolutely random situations. Here's how GoComics.com described the comic:
"Invisible Bread is a comic strip with comics about practically everything! Join the people in the Invisible Bread universe and see how normal, everyday situations can quickly transform into situations that are anything but normal."
Invisible Bread started on March 15th, 2011, with it's first strip, titled "All Up In There." During 2013, Invisible Bread was very popular. It was added to GoComics.com at this time. To celebrate the comic's popularity, Justin Boyd made "Born Bready," the first Invisible Bread comic collection.